Hostel Contacts /
Ngā whare noho
EXT

TITLE

NAME

CONTACT

846
Director of Boarding

Mr Chris Field

021 517720

819
Head of Boarding
Dr Siaosi Vaili
021 2356891
838
Director of Business Services
Mrs Denise Bellette
027 4525374
852
Superintending Chaplain
Rev. Ali'itasi Aoina-Salesa
027 4971952
850

TE WHARE TAINA

Ms Fa'amanatuina Aoina, Mr Tim Fangupo, Ms Litia Mara

[email protected]



851

TE WHARE MAIA

Mrs Aileen Nelson, Mr Paul So'olua, Ms Litia Mara


[email protected]



832

DENTON HALL

Mr Murray Cudby, Mrs Cheryl Cudby, Mr Kenny Groenewald


[email protected]



842
HARDING HALL
TBC

[email protected]



861
TE WHARE PAKEKE

Mr Mike Raos, Mrs Nellie Kaitani


[email protected]



836

TE PAEA

Miss Dejoles Pereira, Mrs Trish Leaupepetele & Ms Sharon Ledua


[email protected]



PLEASE NOTE: Hostel Parents are on duty to take calls from 6.30am-7.30am and 3.20pm-9.30pm.
741
HEALTH CLINIC REGISTERED NURSE
Mrs Tracy Thompson (RN)
021 647745
741
HEALTH CLINIC REGISITERED NURSE
Mr James Toea'ana (RN)
021 02618871
811
HEALTH CLINIC NURSE AND FIRST AIDERS
Mrs Sue Fryer (RN), Trina Harker (First Aider) and Mrs Teena Butcher (First Aider)
-


-
-
-
Mr Wayne Morrison
021 542266








Simply Security
027 5751068
---
Wesley College Boarding
Student and Parent Hostel Information Handbook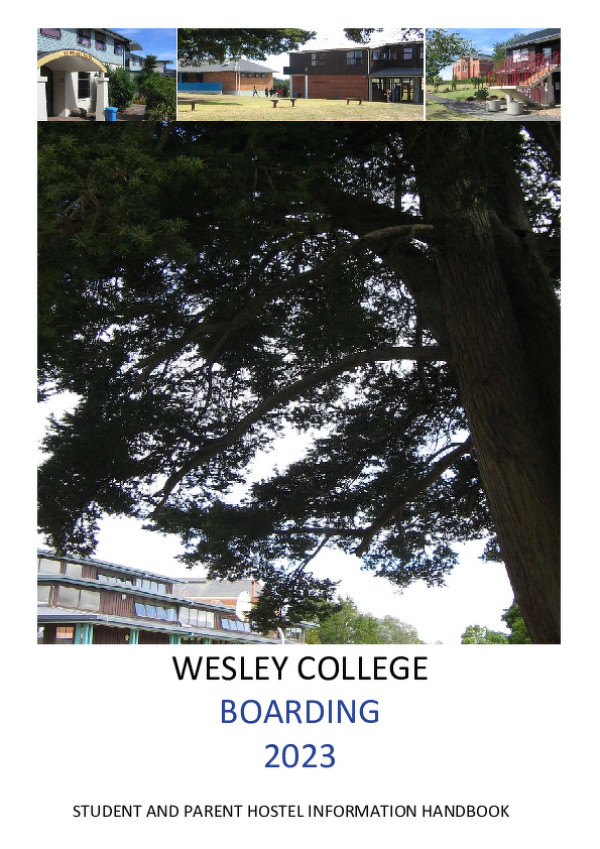 ---
Hostel Council Details
EXECUTIVE SUMMARY WESLEY COLLEGE HOSTELS' COUNCIL
STATEMENT OF INTENT & STRATEGIC BUSINESS PLAN 2011 – 2013
The Statement of Intent and Strategic Business Plan 2011 – 2013 is the result of a re-visioning exercise initiated by the Trust Board in 2008. The Plan sets out the way in which the Hostel Council will work to contribute to the Wesley College outcomes for the College.
The control and management of the Trust Board's Paerata property including the College and the Hostel, is vested in the Wesley College Trust Board. Under the 1976 Integration Agreement the College has a Special Character that includes religious observances, based on a relationship with the Methodist Church of New Zealand.
The Hostel Council, established by the Trust Board in November 2008, governs the hostel and the Deputy Principal (Boarding) under the general direction of the Principal, manages the hostels.
The Hostel Council is responsible for:
developing policy

providing strategic direction, planning and budgeting

reviewing and monitoring risk and progress towards achieving the Hostel purpose and objectives.
The Hostels' Council has established its outcomes to be:
The Wesley College Boarding Hostels develop student's spiritual, academic, cultural, social and sporting potential, in a disciplined * environment, that celebrates the special character of the Methodist Church of New Zealand.* in this context, disciplined means ordered, structured, safe and family like.
An examination of the Hostels' operating environment across a wide range of categories together with a detailed assessment of high level strategic risk areas and specific mitigation strategies provides a base on which to formulate the strategic directions for 2011 – 13.
To achieve its statutory mandate and the above goals, the Hostel has four output classes all of which have quantified targets and timelines:
Provide a home-like environment to boarders

Provide boarder health and welfare services

Provide food service on the College campus

Provide property management services to the College campus
The hostel's intention is to implement five strategic priorities which will contribute the delivery of the Hostels desired overall outcome:
Enhance the celebration of the College Special Character

Improve relationship management and marketing

Enhance the capability of our people

Improve business systems

Improve management of College property and physical assets.
Monitoring and assessment will be conducted on a case-by-case basis to determine the efficiency and effectiveness of the Hostel's operating intentions.
C.J. Telford
Chairperson
18 September 2011