Sport at Wesley College /
Hākinakina

Wesley College offers a wide range of sports that students are able to participate in. A key part of our sports programme is the Rugby programme where we run 8 teams ranging from 1stXV to under 14's and the Seven's teams. Even though Rugby is our strongest code, we also take great pride in our other sporting teams and their respective codes. The list of sports below are offered to Seniors and Juniors throughout the year. Summer sports are held in Terms 1 & 4 with the Winter sports being held in Terms 2 & 3.

Term 1
Senior Summer Sport
Touch
Athletics
Swimming
Tag
Volleyball
Orienteering
Softball
Terms 2 & 3
Winter Sport Whole School
Rugby (Boys & Girls)
Soccer
Netball (Girls & Mixed)
Badminton (Boys & Girls)
Basketball (Boys & Girls)
Term 4
Junior & Senior Summer Sport
Rugby7's (Senior/Junior Boys & Girls)
Volleyball (Junior)
Touch (Junior)
Tag (Junior)
Softball
Coaches/Managers Wanted
Are you passionate about sport and want to be part of the Wesley Legacy? Then we want you.
We are on the look out for Rugby (Girls 1XV, 2nd XV, 3rd XV, U15Black, U15White, U14Black, U14White, Restricted 75KG, U15 Girls), Basketball, Touch, Netball, Badminton and Volleyball coaches. Get in touch with us today for more information.
Email Lesley at: [email protected]
Hope to hear from you soon.
Wesley College has a reputation for its Rugby
The great Jonah Lomu and Malakai Fekitoa are just two of many Rugby Players that come from Wesley College.
Below are ex-Wesley students who are currently playing representative rugby: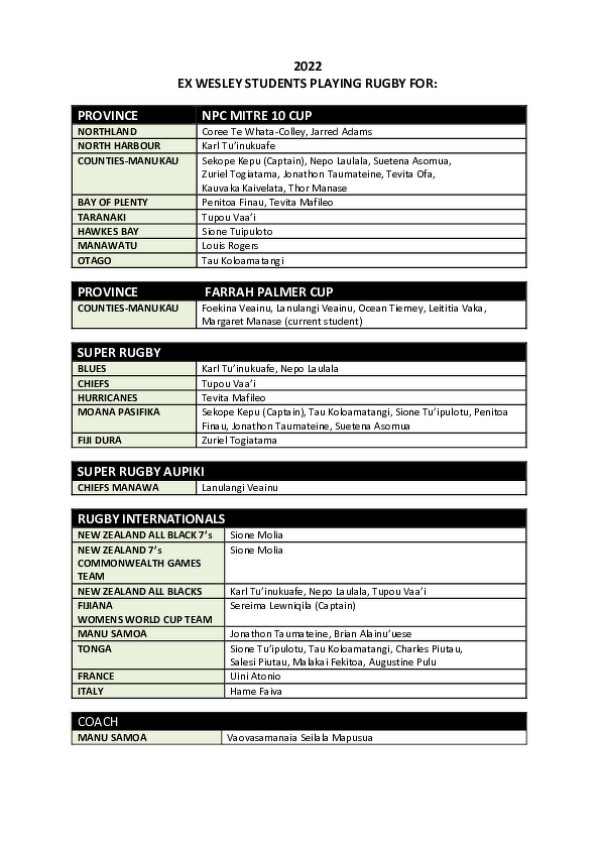 Wesley College Sports Facebook page
We have our own Wesley College Sports Facebook page for students and parents to join.
Here you can find everything there is to know about sport at Wesley College, important dates, events, tournaments, cancellations, photos and success stories of our sportsmen and sportswomen. https://www.facebook.com/wesleycollegesports/
Sport App
To stay up to date with all sports draws, results, cancellations and to receive notifications College Sports Auckland now have a fantastic new App for mobile phone users. I recommend all parents and students to have this App, to stay up to date with all the fixtures of their respective sports teams.
Please use the link below to see the new College Sports mobile phone app.